Aprile 8th, 2018 by
Luigi De Salvia
08 
Mar 
2018
If you care about promoting a culture of peace through dialogue then you should know their names. These women are working to make the world a better place. They are breaking racial and gender barriers, contributing to a traditionally male dominated field, and increasingly establishing themselves as major players with important roles and influence.
At KAICIID, we are proud to say that each one of these incredible women (and many more) has a seat at the dialogue table. Through their valuable contributions and support, several of our programmes and projects have taken shape, and have had a measurable impact.
They are champions of change in their communities and they deserve to be recognized for their work in promoting a world of non-violence, peaceful coexistence, common citizenship, and dialogue.
On the occasion of International Women's Day, we take this opportunity to celebrate the thousands of women who are actively making a difference, starting with:
1. Nawal Ibrahim Alhawsawi a marriage and family therapist and mental health counsellor, has established a successful private practice, SoundHeart Institute for Mental Health Services and Training, and in addition, started the Adam Initiative, which promotes diversity and inclusion and addresses racism and all forms of discrimination, and SafeZone, a child welfare and advocacy group that supports family unity and combats domestic violence. A trainer of trainers, writer, public speaker, and activist, Nawal has presented lectures on topics such as cultural competence, combating radicalization and extremism and promoting mental health and wellness. Born and raised in Mecca, Saudi Arabia, Nawal graduated from the Women's College of Education at Umm Al-Qura University. Later she moved to US and completed a Master's degree at the University of Akron and is currently working on a PhD in Clinical Psychology. She has been named one of Fortune's Most Powerful Women, and the Top 100 Most Influential Saudi Women for the past two years. For more than 10 years Nawal has been a member of the interfaith groups "We Believe Ohio" and "Women of Faith." Called 'The Rosa Parks of Saudi Arabia,' Nawal's activism has been featured in the BBC, Independent, Wall Street Journal, New York Times and the Guardian, among many others in different languages. She loves spending time with her family, studying history, visiting museums, learning new languages and enjoying sunny days on the beach. Her motto is the famous Gandhi quote: "be the change you wish to see in the world."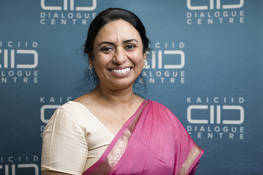 2. Dr. Kezevino Aram has been part of interfaith dialogue efforts for the past twenty years and has recently joined KAICIID's Board of Directors. She has led critical child development initiatives globally and across rural India. Together with Shanti Ashram's partnership platform encompassing 215 partners she is deeply committed to integrated human development initiatives. She founded the International Center of Child and public health in 2016 and through it multiple public health initiatives are currently being implemented for vulnerable children. Deeply committed to the Gandhian spirit, she has received several awards for her work and authored a variety of publications.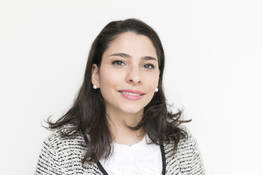 3. Ruham Al-Bezra migrated to Austria after completing her studies in Syria, and holds a Master's Degree in Sociology and has a background in philological and cultural studies in English and American Literature. She has completed a diploma programme in integration coaching and intercultural competence in Vienna, and has volunteered by teaching integration-related courses for refugees. She has also served as an interpreter for several Austrian municipal authorities and schools. Ruham has spent five years with International Human Relief in Vienna as a coach and trainer for refugees from Arab-region conflict areas. Ruham is a dialogue facilitator as part of KAICIID's Programme for the Social Inclusion of People Seeking Refuge in Europe that seeks to develop the capacity of women with migrant backgrounds. It also focuses on women and girls seeking refuge to approach their integration proactively and dialogically.  In 2017 the team began facilitating dialogue for asylum seekers and recognized refugees, either through accommodation centres operated by Red Cross and Caritas, or by combining the dialogues with German language classes. To date, the pilot project has reached over 80 individuals. This project is being piloted in Vienna, Austria.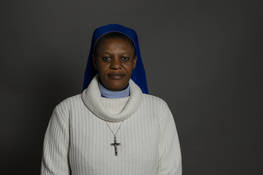 4. Rev. Sr. Agatha Ogochukwu Chikelue is a Nigerian Catholic Nun from the Congregation of Daughters of Mary Mother of Mercy (DMMM). She is the Secretary of the Interreligious Dialogue Office of the Catholic Archdiocese of Abuja and Co-Chair of the Women of Faith Peacebuilding Network (WOFPN). Sr. Agatha holds a B.Sc. in Public Administration and M.Sc. in International Affairs and Diplomacy. Her interest in peacebuilding and interreligious dialogue began some years ago as a result of the incessant ethno-religious violence in her home country of Nigeria. Her hunger for peace at this period manifested in efforts to bridge divides across religious and ethnic lines in the country. Sr. Agatha's passion for peaceful coexistence in Nigeria motivated her to build a network of Christian and Muslim women united against violence and working for peace in Nigeria. Her years of experiences peacebuilding in Nigeria has brought about an understanding that peacebuilding and development are linked but cannot be achieved without justice, forgiveness and reconciliation. She has also learned that gender plays an important role in disputes, negotiating and resolving differences. She believes in a non-violent approach to conflict through dialogue and through actively involving women in peace processes.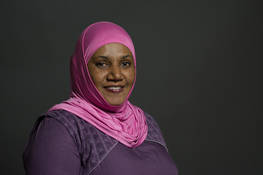 5. Tegulwa Nageeba Hassan's stepping stone toward interreligious and cultural experience was her experience teaching in an Aga Khan, Pakistan primary school for eight years. From there, she continued working towards the promotion of common humanity and a shared experience of human dignity. Starting in 2007, she was involved in a number of community-based projects. It was during this time that she was able work with different faith-based groups. She has participated in interreligious dialogues, exchange visits, conferences and workshops organized by a variety of countries and organizations, including UMSC, GNRC, IRCU and REC in Uganda, Somaliland & Thailand. Her passion for peace building and women's involvement in peace making, has led to successful global gender initiatives, including the incorporation of women's desks in the constitutions of both UMSC and IRCU. Representing religious leaders at the 2nd Ministerial Meeting on the Enhancement of Security Cooperation and the Operationalization of the African Peace and Security Architecture, she pushed for the creation of the EAC Interreligious Council.  She works with school children and teachers on anti- bullying, cultural diversity and child well-fare curriculum, as well as community interfaith initiatives with people from different tribes, cultures and faith backgrounds. Her motto is "Before we belong to any tribe, race, color, religion, class or political affiliation, we are first human beings – everyone is special and unique.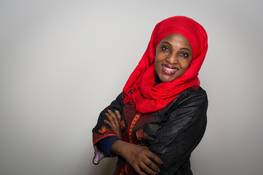 6. Honourable Rehmah Kasule is the President and Founder of the Century Entrepreneurship Development Agency-CEDA International, a non-profit organization in Uganda focusing on education, leadership, mentoring, entrepreneurship, youth employment and gender equality. In 2009 after successfully running her marketing firm for 10 years, Rehmah 'shifted from building brands to shifting minds.' Her work is a catalyst in reframing youth and women's thinking so they can confidently take charge of their lives and lead change in their communities for peace, social connectedness and economic development. Rehmah has inspired and empowered over 38,000 girls in secondary schools, universities, out-of-school youth, women leaders and entrepreneurs. Her work was recognised by President Barack Obama in 2010, she won the International Women's Alliance-World of Difference 100 Awards in 2011, the Goldman Sachs/Fortune Global Women Leaders Award in 2014, and she was named country winner-Africa's Most Influential Women in Welfare and Civil Society Organization in 2016. Rehmah is a Chartered Marketer, an author, a #LetGirlsLearn Global Ambassador, an Aspen Global Leadership Fellow, a Synergos Senior Fellow, a Vital Voices Lead Fellow and member of Parliament (Lukiko) of Buganda Kingdom. She is on the Think Tank for Peace, Security and Mediation for the Organization of Islamic Cooperation and has been involved in interreligious dialogue since 2009. As an international enterprise development expert, she has consulted with the African Development Bank, International Trade Centre and the European Investment Bank. Rehmah has a passion for reading, motivational speaking and mentoring young people and she strongly believes in collaborative action, thus… "when you walk alone, you go very fast, but when you take others, you go very far."
7. Bibi Kiranjot Kaur is a senior Shiromani Gurdwara Parbandhak Committee (SGPC) member and has previously held the position of General Secretary of the SGPC. Kiranjot Kaur has deep personal interest in the Sikh heritage and has championed high profile conservation causes. Kiranjot's rich family heritage include her mother Bibi (Dr) Rajinder Kaur, a member of the Rajya Sabha and editor of Sant Sipahi and her grandfather Master Tara Singh. She is director of an Orphanage that brings up children in the Sikh way of life. She is also director of Gurmat Vidyala, a school that trains young Sikhs as preachers of Sikh religion. She has initiated Interfaith dialogue of Sikhs with Jews and represents SGPC on international platforms. She has been on the Advisory Committee of Jathdar Akal Takht, highest seat of Sikh religion. Her special interest is in promoting the role of Sikh women in religious and religion-related positions.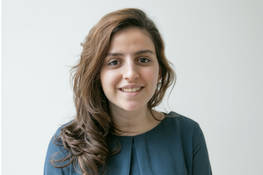 8. Born and raised in Austria, Nadine Kelani is currently in her last year of her Bachelor studies in spatial planning at the Technical University in Vienna. She has worked as an Arabic interpreter in Caritas' Asylum Centre, and engaged in voluntary work with refugees. She is also a board member of the student society "Multicultural Society in Austria." Nadine is a dialogue facilitator as part of KAICIID's Programme for the Social Inclusion of People Seeking Refuge in Europe that seeks to develop the capacity of women with migrant backgrounds. It also focuses on women and girls seeking refuge to approach their integration proactively and dialogically.  In 2017 the team began facilitating dialogue for asylum seekers and recognized refugees, either through accommodation centres operated by Red Cross and Caritas, or by combining the dialogues with German language classes. To date, the pilot project has reached over 80 individuals. This project is being piloted in Vienna, Austria.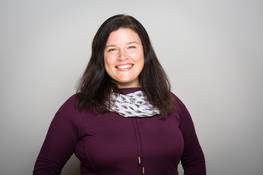 9. Jennifer Sue Lindsay earned her Master of Divinity with an emphasis in interfaith relations at Union Theological Seminary in New York City where she was also co-chair of the Interfaith Caucus. In her doctoral research, which has received awards from the Society for the Scientific Study of Religion and the Society for Psychological Anthropology, Jenn studies the methods and impacts of interfaith/intercultural dialogue. Her comparative anthropological analysis of dialogue is based in both Rome and in the Middle East, and her previous ethnographic fieldwork spans religious communities in North America, Indonesia and Peru. Since 2010, Jenn has independently produced documentary films and is presently working as a documentarian for the Institute for the Bio-Cultural Study of Religion in Boston where she combines her filmmaking and storytelling expertise with her ethnographic and scientific training in the study of religion. She has screened her documentaries throughout the world, the film's topics ranging from the Indonesian Muslim headscarf (Jilbab), atheist Jews from Boston (From Alef to Zayin), artistic nativity displays in central Italy (Il Presepe di Calcata), the role of Religion in the Occupy Wall Street Movement (Occupy Religion), and Norwegian scientists building computer simulations of religious diversity and secularisation (Simulating Religion). Jenn also studied playwriting at Stanford University and arts business management at the Yale University. Before undertaking a PhD, Jenn lived in New York City for ten years and worked in the film and music industries as a songwriter and filmmaker. She lives in Rome with her Zen Buddhist husband and belongs to the Reformed Jewish community of Beth Hillel. Jenn thinks of interreligious dialogue as embracing questions together in the spirit of Rilke: "Have patience with everything that remains unsolved in your heart. Try to love the questions themselves… It is a question of experiencing everything."
10. Kaushalya Munda is a freelance social worker and an advocate for women and indigenous peoples in India. As a member of the Munda tribe, an Indian indigenous community, she led a UN mission to save indigenous peoples and the underprivileged by assisting them with life skill development and safeguarding their rights under the Universal Declaration of Human Rights. She has also led several UNICEF projects on preventing and controlling anemia in girls and children. Ms. Munda has worked as an educator lecturing and promoting nutrition, prenatal care and reproductive health. She has also worked as a research and monitoring officer of a project on adolescent health and their holistic development, including career counselling and life skill development at the Tata Steel Rural Development Society. Many legal issues related to false charges inflicted on indigenous communities or persons have been raised by Ms. Munda at the administrative level. To date, all cases raised by Ms. Munda have had positive responses and have been addressed with significant judgement. She also sponsored two vulnerable indigenous community students in completing their technical education and established a linkage and scope for students of a vulnerable community in adopting technical education. Ms. Munda is currently the President of the All India SC/ST Confederation for Affirmative Action committee; an advisor in the managing committee of the Adibasi Jan Kalyan Samity School; a member of the Adibasi Budhijivi Manch, Jharkhand; the treasurer of Bharat Munda Samaj, Jharkhand; advisor of Adim Jan Jati Sangh and a member of the Divine Mercy Prayer Trust in Kadma, Jharkhand. She is also a member of the International Work Group for Indigenous Affairs, Copenhagen. Ms. Munda has an M.A. in sociology from Ranchi University and has also been invited to take part in numerous trainings focusing on rights and conflict resolution among indigenous peoples around the world.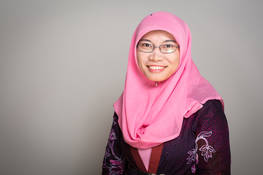 11. Yulianti Muthmainnah has more than 13 years' experience in areas related to women and human rights issues. She teaches at the Muhammadiyah University of Prof. Dr. Hamka, Jakarta and is a researcher at KAPAL Perempuan (the Circle of Alternative Education for Women). Yuli completed six years in Indonesia's National Commission on Violence against Women (Komnas Perempuan). Yuli holds a master's degree in social studies on diplomacy and international relations from Paramadina University. Yuli has experience as a trainer for judges, public prosecutors, police personnel and law enforcement officials, local government and for illiterate women in rural areas and has four years' experience working to promote interreligious dialogue. She was selected to participate in Women Unlimited, (www.womenunlimited.id), received a prestigious recognition from Three (3) – a telecommunication provider company in Indonesia – as one of "3 Satria Pantang Menyerah" (3 Knights who Never Give Up) that recognises inspiring and encouraging Indonesian women in 2016, participated in women ulame/mufti from Rahima (www.rahima.or.id) in 2011, was named best graduate of the 61st graduation cohort 2004/2005 academic year (GPA 3,84) of the State Islamic University Syarif Hidayatullah Jakarta from the Syari'a and Law Faculty in 2005. In her own words, Yuli always makes an effort to see the positive and bright side of every single problem, and to be an optimistic rather than a pessimistic person. She believes that we should make a change, to act, and to give a contribution no matter how small. "Our gift or contribution today makes a difference to women and children tomorrow" is her motto.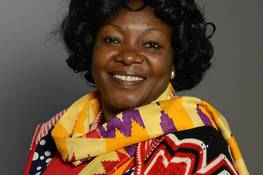 12. Justina Mike Ngwobia is a peacebuiding practitioner who has been working in the field of interfaith relations for over 15 years. She holds a Bachelors' degree in social work and administration. Her passion for Christian-Muslim harmony and dialogue grew when she moved to the northern part of Nigeria and discovered that the incessant crisis in that part of the world was the result of political manipulation: people were using the different religious groups for their own selfish gain, leading to violent conflicts. Her motivation grew when she visited people living in rural communities and saw how people were suffering and struggling to survive. Her major interest is focused on empowering communities through interfaith joint projects, adult education, peace clubs, Christian Muslim harmony, and the empowerment of women, which are all aimed at interfaith dialogue and sustainable development. She has travelled to different parts of the world sharing her experiences in interreligious dialogue. At present, she is the ecumenical coordinator of the Presbyterian church of Nigeria, Jos presbytery. She is also interested in promoting the participation of women in governance issues, peace and security. She considers her greatest milestone to be the establishment of the "Women Peace Builders Network" in Nigeria, which gives women the opportunity to add their voices to events in society through dialogue. Justina strongly believes that our world can only be better and more peaceful if people of diverse religions learn how to interact positively for mutual cooperation.
13. Reverend Kosho Niwano KAICIID Board Member, President-Designate Rissho Kosei-kai, Granddaughter of founder Nikkyo Niwano and first daughter of President Nichiko Niwano.
Reverend Niwano currently devotes herself to sharing the teachings of the Lotus Sutra with leaders both in Japan and overseas as well as with the members who visit the Great Sacred Hall for worship services and special events from all parts of Japan.
Career Summary:
President-Designate of Rissho Kosei-kai
Participation at several interfaith congresses including Religions for Peace World Assembly, Asian Conference of Religions for Peace
Study at Rissho Kosei-kai's Gakurin seminary
Graduated from Gakushuin University, Tokyo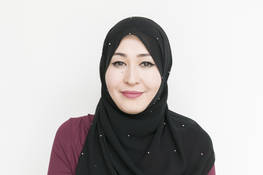 14. Born and raised in Afghanistan, Forouzan Noyan has been living in Vienna for ten years. As a mother of two children, she completed her education 2012 in Vienna as a childcare worker and has been active in this profession since early 2015. For the past eight years she has also been working on a voluntary basis for the Islamic centre in Vienna helping asylum seekers find their way through administrative channels in Austria. Forouzan is a dialogue facilitator as part of KAICIID's Programme for the Social Inclusion of People Seeking Refuge in Europe that seeks to develop the capacity of women with migrant backgrounds. It also focuses on women and girls seeking refuge to approach their integration proactively and dialogically.  In 2017 the team began facilitating dialogue for asylum seekers and recognized refugees, either through accommodation centres operated by Red Cross and Caritas, or by combining the dialogues with German language classes. To date, the pilot project has reached over 80 individuals. This project is being piloted in Vienna, Austria.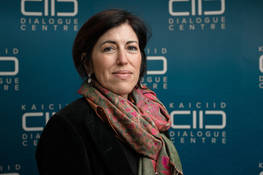 15. Eva Ruth Palmieri is a Member of the Executive Board of the Union of Italian Jewish Communities, as an elected Councillor. She is also co-founder of a women's movement of Italian Jewish leadership within the Union, member of the Union's Interreligious Dialogue commission, co-founder and co-president of the "D.I.A.L.O.G.U.E" Association aimed at furthering interfaith and intercultural dialogue and combatting discrimination and prejudice on religious grounds. She is also Co-Producer of "Dana's Steps", a documentary on interfaith understanding, in Italian and English, that has been screened at interreligious film festivals. She is curator of "Otherness", an interfaith documentary used as a tool against discrimination on religious grounds, screened in Italian high-schools, with the support and sponsorship of the Union of Italian Jewish Communities. She is also a member of the Executive Council of the Rome Jewish-Christian Friendship Association, and is enrolled in advanced interreligious studies towards a doctorate at the Pontifical Gregorian University in Rome. Additionally, she is a simultaneous translator (English – Italian, Italian – English) specialized in Vatican and interreligious conferences held in Italy and in other EU countries and translator of the English edition of SIR, a Catholic news agency.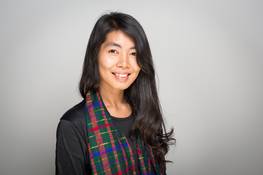 16. Pa Pa Phyo is a peace practitioner who has been working with youth, women and Buddhist monks and nuns in Myanmar for sustainable development and peace since 2008. She holds a master's degree in gender and peace building, a master's in political science and a bachelor's degree in physics. Her passion for peace and gender studies compelled her to be part of Colorful Grass, an interfaith youth group, and the Women Can Do It network in Myanmar, and she also writes about gender and peace in local newsletters and magazines. She formerly worked with Akhaya Women organization, Kalyana Mitta foundation, Akhaya and the RAINFALL gender study organization. Currently she is one of the focal points of Kalyana Mitta foundation for a peace programme, which is involved in promoting a culture of peace and a pluralistic society for youth peace leaders, the Sangha Leadership for Positive Social Change project and the Education for Peace project. Her beliefs in interdependence and coexistence toward peace encourage her to work for anti-discrimination against gender, race and religion in her country.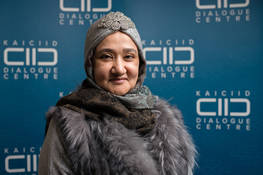 17. Dr. Suhair Hasan Al Qurashi is the President of Dar Al-Hekma University, one of the first and leading private academic institutions for women in Saudi Arabia. She received a Ph.D. in Education and an M.P.E. in Educational Research from Cambridge University, U.K. Dr. Al Qurashi participated in several executive leadership trainings in Oxford University, Harvard University and Pennsylvania University. As a specialist in the evaluation of higher education and quality management, Dr. Al Qurashi has initiated and successfully pursued the national and international accreditation of Dar Al-Hekma University with both the "National Commission for Academic Accreditation and Assessment (NCAAA) and the Accrediting Council for Independent Colleges and Schools (ACICS). To enhance opportunities for growth and expansion, Dr. Al Qurashi has actively cultivated partnerships with academic, cultural and scientific institutions and organizations around the world. She has forged academic partnerships with world class universities such as the Fletcher School of Law and Diplomacy at Tufts University; School of Architecture and Planning at University of Colorado; College of Engineering and Haas Business School at University of California, Berkeley; Teachers College at Columbia University. Dr. Al Qurashi received several awards and honorary appointments amongst them the award of distinction from The Lebanese Culture Ministry and The Lebanese Education Ministry, for her outstanding contributions to higher education. Dr. Al Qurashi has participated and presented papers at numerous national and international conferences.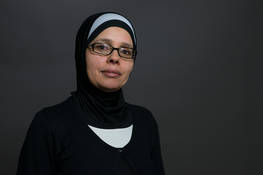 18. Mabrouka Rayachi completed a Master of English and German from the Bourguiba school in Tunis in 1991 and earned a pedagogy diploma from the Islamic Religious Pedagogical Academy in Vienna in 2004. She was a religious teacher in Viennese schools from 1993 to 2012. During this time she organized many interreligious programmes with other religion teachers (mainly Catholic and Protestant). In April 2012 she became an Inspector for the Islamic religion teachers in Lower Austrian schools and initiated an interreligious seminar with her Catholic and Protestant colleagues on subjects such as the celebration of religious traditions in Islam and Christianity. She encourages her fellow teachers to actively encourage interreligious dialogue in school by regularly providing them with ideas and teaching materials. She is especially interested in broadening the interreligious activities, especially among young people. During the course of her work on interreligious dialogue, she has not only learned about other faiths, but has also learned much more about and deepened her own faith. As an active member within her Islamic community, she was chosen as the official Austrian representative to the first International Women's Congress for a Culture of Peace in Algeria in 2014. Her Motto: The way to sustainable peace is interreligious dialogue.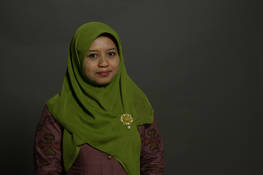 19. Wiwin Rohmawati is Vice President of Fatayat of the Nahdlatul Ulama and a Board Member of the Forum for Inter-religious Harmony in Yogyakarta. She has been working in the field of interreligious dialogue for over 15 years. At Interfidei, a pioneer of interfaith dialogue in Indonesia, she works as a researcher, trainer, editor, program officer, executive secretary and senior staff member. She also teaches several courses on Islam, interfaith dialogue and peacebuilding at Duta Wacana Christian University in the town of Yogyakarta. She has also assisted with several programs organized by The Dialogue Institute at Temple University, USA (2010-2011). Her main interest is the position and role of woman in conflict resolution and peacebuilding through interreligious dialogue. In 1999, as an undergraduate student and part of the Indonesian delegation, she attended the 7th World Assembly of the World Conference on Religion and Peace (WCRP) in Amman, Jordan. She finished her MA in Interreligious Relations at State Islamic University in Yogyakarta under the sponsorship of Kerk in Actie, a programme for missionary and diaconal work of the Protestant Church in the Netherlands. Along with her colleagues and network at Interfidei, she has successfully organized several national meetings on interfaith dialogue and peacebuilding issues in Makassar (2002), Bali (2003) and Papua (2014). While the Indonesian government requires all public schools from elementary to university levels to teach religion as a compulsory subject by using a mono-religious model (each student learns only his/her religion), since 2011 Wiwin and her friends have been promoting the implementation of an interreligious model of instruction, especially among middle school religion teachers in Yogyakarta. Her motto is "work hard, think smart and have a sincere heart".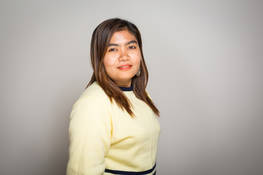 20. Khin Sandar Tun is a young activist who is currently working as a freelance civic educator and is actively involved in public demonstrations for peace in Myanmar. In May 2016, Khin and her friends organized a peace march for diversity and promoting tolerance in Yangon with young people from different religious backgrounds. She is also a committee member of "Youth participation in Peace Process." She enjoys her work with youth groups and has provided civic education to ethnic minorities on a voluntary basis since 2012. She is also serving as a network coordinator and facilitator at the Peace Cultivation Network-PCN. She occasionally facilitates interreligious dialogues hosted by PCN. In 2014, she spoke at an event hosted by the Center of Diversity and National Harmony on peace and tolerance from an Islamic perspective. She is a member of the Kaman minority group, which formed part of a diverse and peaceful interreligious community in Rakhine state. This peace was shattered by ethno-religious conflict in 2012. Since she and her family are victims of conflict, she is eager to work for peace. She studied conflict transformation across cultures (CONTACT) at the School for International Training Graduate Institute in Vermont, USA. As an activist, she is always thinking about alternative ways to promote tolerance and peace.
21. Alissa Qotrunnada Munawaroh Wahid, publicly known in Indonesia as Alissa Wahid, is a trained family psychologist, but is most recognised for her work in the social sector on multiculturalism, democracy and human rights and moderate Muslim movements in Indonesia. She currently focuses on leadership development for interreligious youth leaders. She is the National Director of Gusdurian Network Indonesia (GNI), named after her late father, President Abdurrahman Wahid who is also known as Gus Dur. GNI hosts thousands of grassroots-level activists in more than 100 cities in Indonesia, working to promote interfaith dialogue and understanding, active citisenship, democracy and human rights. GNI is known for its work at the local level, for example the 2015 International Day for Tolerance that took place in 50 cities. Alissa has a master's degree in psychology and is also active in Nahdlatul Ulama (NU), the biggest Muslim organisation with more than 50 million members, as General Secretary of its Family Welfare Agency. In this role, she aims to promote just, strong, and moderate Muslim families. Wahid meets with and speaks to thousands of people annually through public events. She is a Civil Society Ambassador for Sustainable Development Goals in Indonesia, focusing on Goal 16: Peace, Good Governance and Access to Justice. She received Indonesia Shine-On Award in 2015 from Good Housekeeping Indonesia magazine. She was also awarded the Women Award 2016 from Indonesia Marketing Week. Wahid dreams of a just and peaceful world. As a leader, she lives by the principle: 'without integrity, no one listens; without trust, no one follows.'